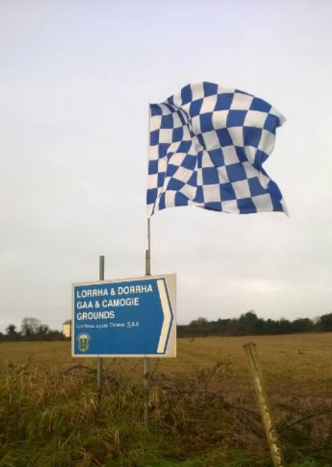 Its Good To Be Back:
I was very humbled and appreciative of all the good wishes from so many people who made contact with me through cards, letters, phone calls and text messages during my recent illness. It was a great  comfort and support to me and my family during those difficult months, thank you all so much. Sincere thanks to our wonderful neighbours and extended relatives who came to the assistance of the family throughout my ordeal.
It's good to be home and trying to get back to some form of normality – no matter how little- as progress is slow. Thank you to one and all for everything you did for us, it is so much appreciated.  Rose Mannion.
2021 Parish Calendar.
Lorrha Development/Tidy Towns are looking for photographs for the 2021 edition of the very popular Lorrha/Dorrha Parish Calendar. If you are willing to loan your photographs for possible inclusion, please call Louis on (086) 8493595, Mary at (087) 2601413 or Rose on (086) 8647166. All hard copies will be returned. You can also email your photographs to info@54.171.167.182.
Church News.
Mass Times:  Monday Mornings at 9.30am in Lorrha Church (except Bank Holidays). Every Saturday evening at 6.30pm in Lorrha Church.  Every Sunday morning at 11.30am in Rathcabbin Church, Borrisokane: 7.00pm Saturdays and  10.30am Sundays, Terryglass:           9.30am Sundays, Kilbarron: 8pm Saturdays, all for the foreseeable future.
Masses remain available remotely live at Borrisokane mass times and a recording from Fr Michael. Please check the following links:  www.twitch.tv/borrisokaneparish, www.killaloediocese.ie/parish/borrisokane/ and www.terryglass/kilbarron https://bit.ly/3bhnxfj.
The Rosary will be recited before both masses each weekend to ask for Our Lady's protection during this pandemic and to end the spread of this awful virus which has affected our lives immeasurably.
National Grandparents Pilgrimage.
 The annual National grandparents Pilgrimage will take place on Sunday 13th September at 3pm from Knock Basilica. This year due to covid-19 restrictions, the grandparents' pilgrimage will be streamed online.  We invite grandparents and their families everywhere to join us online at
www.knockshrine.ie/watch Further details are available at www.knockshrine.ie
Lorrha Club Finds Winning Formula.
Lorrha GAA club are on a winning streak this year with the U16 'B' side getting the club off to a winning combination by beating Moneygall/Clonakenny by 4-16 to  2-17 to bridge an eleven year gap, in the North final.
Hot on their heels was the U/14 'B' team who recorded a great victory over a much fancied Newport side in the North semi final with five points to spare. Their fate will be known by now as the team was to play Roscrea in Moneygall in the North final last night (Tuesday).
And next up for the lads was the senior side who are through to the county final of the Seamus O'Riain cup after they beat the favorites Killenuale in the semi final on Sunday last with a whopping ten points to spare. Lorrha 3.20 – Killenuale 2.13. Lorrha now face Mullinahone in the final which will be played in two weeks time.
To top it all off on Sunday last the Lorrha girls recorded a mighty victory 6.17 to Roscrea 0.5 in their junior camogie game which now sees Lorrha into a quarter final. Well done to all the players and their management.
Don't Forget.
 Lorrha GAA club members are offering help to any elderly people in the parish who need help whether it's to collect groceries, help with meals etc. during Covid – 19 Pandemic. Anyone needing help/support can ring: Joe Dolan (0879673124), Adrian Molloy (0872325234), Louis McCormack (0868492595), Maureen O'Meara (0872426965), Niall McIntyre (0857623158) who will all be happy to help.
Stay Safe and Take Care:
With the number of Covid 19 cases on the rise again, please adhere to the health authorities advice. Wash your hands regularly, wear a mask and stay at least two meters away from people. Believe me, you do not want this virus. Stay safe and take care.
GAA Notes:
There was No Winner of this weeks lotto jackpot of €9,450. The numbers drawn on 7 September were: 4-14-18-27. 1 Match 3: Mary Brady wins €100. Promoters: D&K Mannion, Mark Kennedy, Mulrooney's Gala.
Next Monday's draw will be for a jackpot of €9,600 with Match 3 pot of €100 so make sure you are in the draw. Team 4 in charge of the draw. Thank you for your continued support.
Senior Hurling: The lads had a fantastic win in Semple Stadium over Killenuale in Seamus Ó Riain Cup semi-final on Sunday. Lorrha 3-20 Killenuale 2-13 was the final score. Next up is the county final v Mullinahone in Semple Stadium on Saturday 19th September at 2.00pm. Thanks to all at the Ferry Inn who put on a lovely meal for the lads after the game. Time to get the colour out.
Under 16 Hurling: Best of luck to the under-16s in their upcoming county semi-final v Boherlahan-Dualla this Saturday in Borrisoleigh at 2.00pm.
Under 14 Hurling: The under-14s played in the North 'B' final v Roscrea on Tuesday but were defeated 4-12 to 1-9. Hard luck to the players and mentors.
Tipperary GAA Clubs Draw: All members are encouraged to sign up on the Tipperary GAA website or by contacting Kathleen Gleeson (0868694528) Thanks to all our loyal promoters and participants, this is an essential fundraiser for our club.
Lotto: The jackpot is at €9,600 with a Match 3 pot of €100. You can play online at clubforce.com.
Camogie: Well done to the Lorrha junior camogie team who had a comprehensive 6-17 to 0-5 win over St Cronan's on Sunday, which sees them through to a quarter final against Silvermines in Tony Reddin Park next Saturday at 5.00pm.